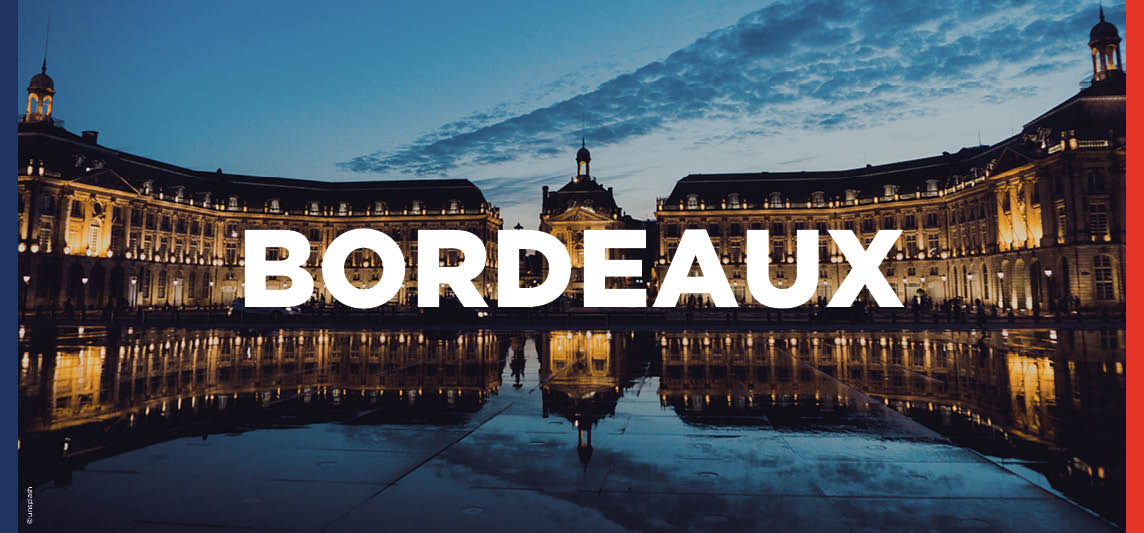 After a 15-year full makeover, Bordeaux, with its blonde stone façades, has recovered its 18th-century splendour, confirmed by the historic city centre's recognition as a UNESCO World Heritage Site in 2007. Besides being the World Capital of Wine, Bordeaux has become an international brand for tourism with almost 7 million visitors each year. An attractive city for business as well as for lifestyle.
Bordeaux : a sustainable destination for business events!

© Signe des Temps

Located between the world's greatest vineyards and the Atlantic coast, Bordeaux offers everything you need to create a sustainable business event. The city is committed to a sustainable future. In 2022, Bordeaux ranked fifth place (out of 65) in the Global Destination Sustainability Index (program for benchmarking destinations on their sustainable strategies) based on 70 different criteria. In line with these achievements, Bordeaux appears to be the ideal city to host eco business events. The Bordeaux Convention Bureau team can help you put your eco-event together.

Impressive venues & eco-conscious events

© Signe des Temps

Bordeaux, a city renowned for its cultural heritage and stunning architecture, possesses a range of impressive venues for events. With 8 conventions and exhibition centres, and amphitheatres ranging from 200 to 1,500 participants, there is ample space for events of all sizes. The amphitheatres range in capacity from 200 to 1,500 participants, making Bordeaux the perfect location for both intimate and large-scale gatherings.Bordeaux has also taken steps towards sustainability by setting up a Sustainable Development Department to support local professionals in their transition towards eco-conscious practices. It also helps event planners to reduce their environmental impact, ensuring that Bordeaux remains at the forefront of sustainable business events.

A taste of Bordeaux

© Signe des Temps

Bordeaux enjoys a thriving culinary scene, with the largest number of restaurants per capita in France, totaling over 1,600 dining restaurants. The city is home to numerous internationally renowned Michelin starred chefs -such as Philippe Etchebest, Gordon Ramsay and Yannick Alléno; and the first ecolabelled starred restaurant, Le Prince Noir- who showcase the local gastronomy and high-end gourmet cuisine. With 65 designated wine appellations and 7,000 châteaux, Bordeaux is known as the wine capital of the world. While the Cité du Vin is an absolute must-see, a visit to a local wine bar should also be on top of your list. In short, Bordeaux has something for everyone.

Green spaces & creative atmosphere

© Signe des Temps

Ideally located (less than a 2-hour ride by TGV train from Paris), Bordeaux is a leading destination for business tourism, offering an unparalleled combination of beauty, culture, and innovation. With 150 parks and gardens, a pedestrianized town centre with calm traffic, Bordeaux is a pleasant and accessible city to live, work and explore. But there's more! The city is home to the largest urban area classified by UNESCO with 347 monuments, making it a rich destination for culture and history enthusiasts. Bordeaux's commitment to sustainability is also demonstrated through initiatives like the Darwin Ecosystem, a creative hub for green economy initiatives, making it an ideal business destination for those seeking a responsible and eco-friendly environment. Whether one is looking to host a conference, hold a business meeting, or simply enjoy the city's many treasures, Bordeaux will leave a lasting impression on all visitors.
Bordeaux Convention Bureau infos
© Signe des Temps

© Signe des Temps

© Signe des Temps

© Signe des Temps

© Signe des Temps

© Signe des Temps

© Signe des Temps

© Signe des Temps

© Signe des Temps

© Signe des Temps

© Signe des Temps

© Signe des Temps