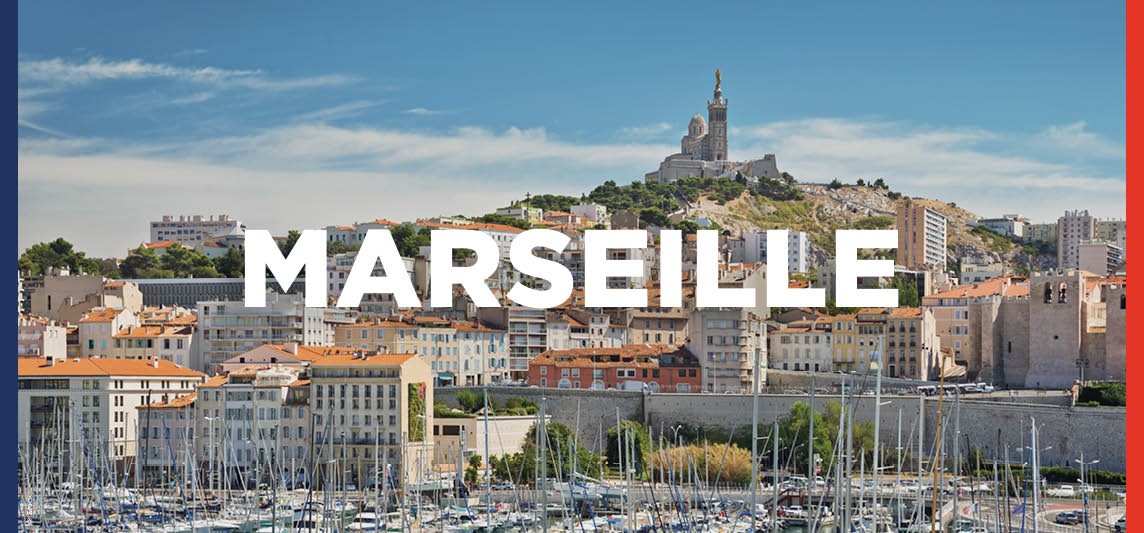 Planning a business event in France? Choose Marseille!
In less than two decades, France's oldest and second largest city has jumped on the 21st century bandwagon to become an innovative economic and cultural metropolis, at the forefront of revolutions in sustainable development and eco-responsibility. This ambition has been reinforced by the World Conservation Congress that was held in September 2021, and its impact can be seen in the labels and certifications awarded to players in the events sector (Green Key label for its hotel network, ISO 20121 certification for the Convention Bureau, registration of the city in the GDS Index, Ecotable label for restaurant owners
Aix-Marseille, your next business tourism destination

© Signe des Temps

Located at the heart of the Mediterranean Sea, Marseille -the oldest French city- is easily accessible: it is only a 3-hour TGV ride from Paris and a 2-hour flight from the main European cities. Additionally, its impressive cultural heritage and vibrant arts scene provide a unique and inspiring backdrop for any event. Whether you are looking for historic and traditional venues or modern and contemporary settings, Marseille offers plenty of meeting facilities to meet your needs. Moreover, Marseille has renowned gastronomy and a thriving culinary scene, which add a special touch to any event. In other words: Marseille may be the ideal location for businesses and corporations looking to host events with attendees from all over Europe.

Marseille, oldest French city

© Signe des Temps

Originally called Massalia, Marseille -founded 2,600 years ago- is the oldest city of France and the second largest metropolis in France (with an estimated population of 870,000 inhabitants). Designated as the European Capital of Culture in 2013 for its rich cultural heritage and lively arts scene, the city of Marseille is an attractive, sunny, and authentic metropolis, with a unique blend of history and modernity. Its Mediterranean climate and coastal location make it a pleasant destination to experience the best of French culture and lifestyle. The city is filled with historical and cultural sites: take a journey to visit the iconic Notre-Dame de la Garde, the Old Port, and of course, the MuCEM museum.

Marseille, a natural and cultural treasure in the Mediterranean

© Signe des Temps

With 57 km of coastline, including 20 km of creeks, the city is a paradise for nature lovers. The emblematic Calanques National Park, a protected area to protect, offers a revitalizing experience: it is the only European national park to encompass land, sea and urban areas. The park's crystal clear waters and rugged limestone cliffs are a must-see for anyone visiting Marseille. In addition, Marseille offers several parks, gardens and beaches which provide ample opportunities to enjoy the outdoors while attending a business event. Marseille also enjoys many cultural assets that can for instance be discovered through a visit to the MUCEM. The museum showcases the city's history and culture and presents a unique view of the Mediterranean world. Another must-see for visitors is the Panier District: Marseille's oldest district. Known for its charming streets and lively atmosphere, this neighborhood shows a glimpse of Marseille's past.

On the Menu: typical Provençal cuisine!

© Signe des Temps

Marseille's gastronomy is a true reflection of the city's rich cultural heritage and Mediterranean region. From hidden tables to Michelin-starred restaurants, the city offers a wide range of dining options allowing visitors to discover the best of the Provençal cuisine. The traditional and iconic bouillabaisse, a fish stew that saw the light in Marseille, is a must-try for any gastronomy lover. Made with a variety of fish, olive oil, and herbs, the Bouillabaisse is a true representation of Provençalep cuisine. Little tip and secret of the recipe: when it boils, turn down the heat! Marseille's gastronomy goes beyond la bouillabaisse. Visitors are invited to discover a wide variety of seafood and fish dishes, as well as local specialties such as the panisse, a chickpea fritter, local wines and olive oils. Looking for a fancy restaurant? Marseille is home to 18 Michelin-starred restaurants that will impress any business or corporate event attendees.

Aix-Marseille is home to more than successful 1000 MICE events every year

© Signe des Temps

Marseille is well equipped to host international conferences and events: the city is the France's number 4th city in the ICCA rankings for international conference facilities. Marseille provides more than 50 meetings facilities: a wide range of modern, atypical, and innovative places, leaving you you spoilt for choice. Whether you are looking for a unique and inspiring location for your next conference or a place to host a corporate event, Marseille will not disappoint. With 9,500 hotel rooms to stay in, Marseille ensures a room for all attendees (389 hotels including 45 4-star and 5-star hotels in Marseille and its territory).
Marseille Convention Bureau infos
© Signe des Temps

© Signe des Temps

© Signe des Temps

© Signe des Temps

© Signe des Temps

© Signe des Temps

© Signe des Temps

© Signe des Temps

© Signe des Temps

© Signe des Temps

© Signe des Temps

© Signe des Temps

© Signe des Temps

© Signe des Temps

© Signe des Temps