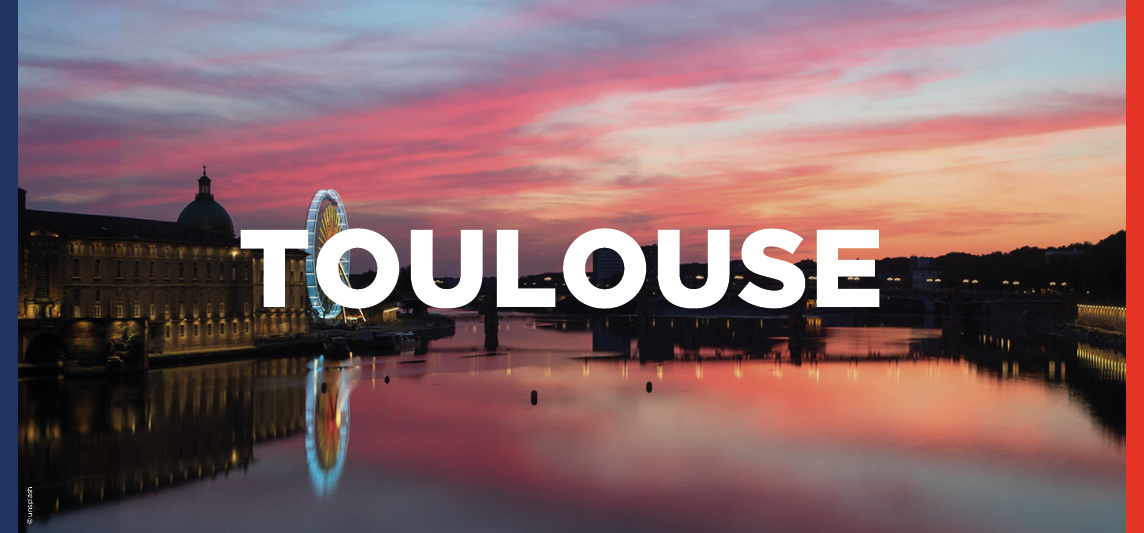 Planning a business event in France? Choose Toulouse!
Toulouse, an unforgettable destination for business events

© unsplash

As an international event organizer, you are constantly searching for the perfect location to host your next event. Look no further than Toulouse, located in the heart of the sunny southwest of France. Its world-class facilities, unrivaled hospitality and commitment to a more sustainable business tourism make it the perfect destination to create unforgettable experiences.

A journey through time

© Signe des temps

Toulouse's cultural and historical heritage is a true marvel. Visitors can travel back in time as they wander through the charming medieval streets, admiring the beautiful red brick buildings the city is famous for. The iconic Place du Capitole is a must-see, with its grandiose architecture and bustling atmosphere. Another highlight is the Saint-Sernin Basilica, a UNESCO World Heritage site and one of the most important examples of Romanesque art in Europe.

Toulouse also enjoys an stirring arts scene, with numerous museums, galleries, and theaters. The Museum of the Augustins, housed in a former Augustinian convent, showcases a unique collection of European art from the Middle Ages to the early 20th century. The Cité de l'Espace, a unique space museum and amusement park, allows visitors to explore the mysteries of space and the universe. And for those who dream of discovering the legendary Concorde's cockpit, stop by the Aeroscopia Museum.

Unique venues in Europe

© unsplash

Toulouse is more than just a destination; it is an experience that will leave you and your guests with unforgettable memories. With its exceptional sites, from the Salle des Pèlerins at the Hôtel-Dieu Saint-Jacques to La Halle de la Machine in the new Aerospace quarter, Toulouse offers a wealth of cultural and historical attractions to explore. But there is more! The brand-new Toulouse Exhibition and Convention Centre opened in 2020 is one of the largest in Europe, with 155,000 square meters of event space accommodating up to 3,000 people.

What sets Toulouse apart from other cities is its spectacular venues that are unique in Europe. Imagine hosting your event in Toulouse -birthplace of Airbus- at the foot of the Ariane rocket, the A400M, or even the Concorde. These venues will add a touch of glamour and excitement to your event that your attendees will never forget.

Here is a list of all the Toulouse Convention Bureau's partners:

https://www.meetings-toulouse.com/venues

Comfort, details and luxury at every turn

© unsplash

With over 14,500 hotel rooms available in the city -located only 20 minutes away from the airport with direct flights to major cities across the world-, you can be sure to find the perfect lodging for your guests. But it's not just the number of rooms that's impressive - it's the quality, too. For instance, the Hôtel Dieu Saint-Jacques, a former 16th-century hospital, has been transformed into a boutique hotel with a spa, restaurant, and breathtaking views of the city. Another option is the Grand Hôtel de l'Opéra, located in a historic building opposite the famous Capitole Square and offering elegant rooms and suites.

With its unique blend of history and modernity, traditional and high-end facilities and convenient location, you and your guests will be inspired by the beauty and charm of this vibrant city. So why wait? Let Toulouse be your next destination, and create memories that will last a lifetime.
Toulouse Convention Bureau infos
©Signe des Temps

©Signe des Temps

©Signe des Temps

©Signe des Temps

©Signe des Temps

©Signe des Temps

©Signe des Temps